Skip to product information
Lead Sleeve for Reactive, Anxious, Nervous Dogs - Puppy and Dog in Training Leash Sleeve
$13.29
Is your dog prone to anxiety, a touch of unpredictability, or simply a free-spirited character? If you wish to ensure the safety and well-being of your beloved pup, our leash covers provide the perfect solution.
Our lead covers effectively communicate crucial information to people while you're out and about, making the walk more enjoyable for you and your dog.

Key Features:

- Super Durable: Easy to clean (washing machine friendly) and built to last, our leash sleeve is made to withstand the test of time, ensuring long-lasting support for your dog. The fabric is high quality Oxford, known for being very resistant and durable.

- Lightweight and Waterproof: This leash sleeve is designed to be unobtrusive, ensuring your dog's comfort during walks. It's also waterproof, making it suitable for all weather conditions.



- Visible from a distance and Double-Sided Design: This leash accessory features a double-sided design. We use yellow covers with black font as yellow is typically is used for warnings.

- Size: 22cm * 6cm when folded. Not too bulky yet perfectly readable.

Give your pup the care they deserve during walks with our Leash Sleeves. Make each walk a positive and stress-free experience for both you and your beloved pet.
Recommended Products
Add on optional description to this section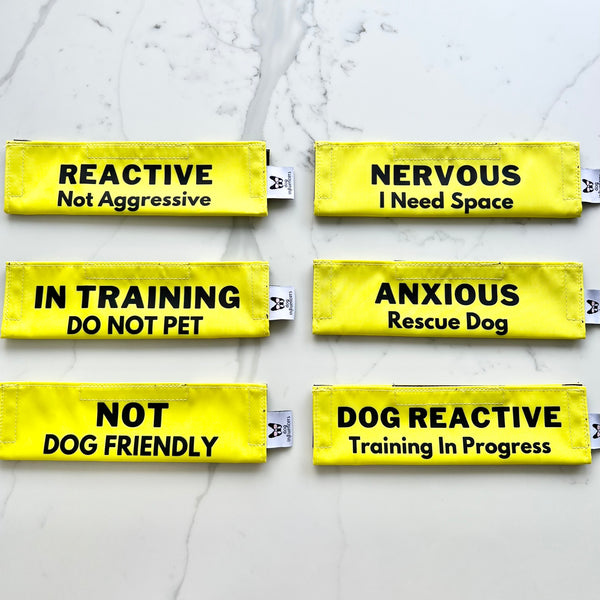 Lead Sleeve for Reactive, Anxious, Nervous Dogs - Puppy and Dog in Training Leash Sleeve
$13.29